2012 Commencement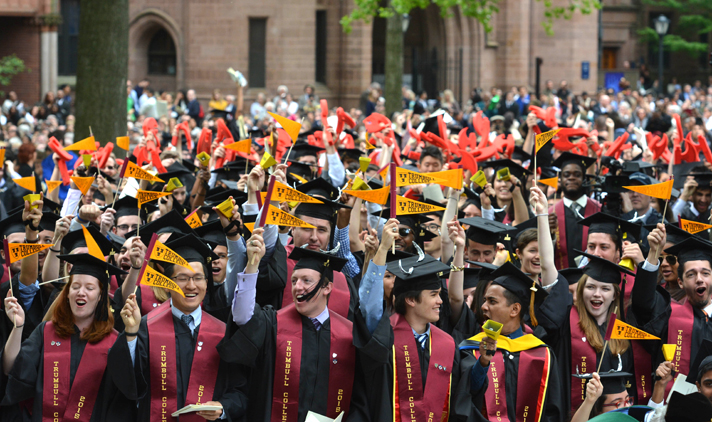 Tick, tick, tick. Graduation draws high, and you may be wondering what you need to be doing. Yale commencement, it turns out, is a series of parades, and I am writing to make sure that you are part of each of them. What follows is an overview and explanation of where you need to be when. Also, if you follow the link at the end of this message you have a digested, cheat sheet version of this, a pocket guide, if you will. For all the various and sundry activities for the weekend, see:http://www.yale.edu/commencement/html/schedule.html#YC
Saturday, 16 May 2015 Baccalaureate
1:45 pm: Assemble in the Trumbull main courtyard wearing caps and gowns. If you want to sit with your friends, you should standin front of or behind them. We will process in a double column towards Woolsey Hall. The lines will split so the person walking next to you will sit in a different section. When we enter Woolsey, you should be seated and remove your caps. Remember to turn your cell phones off!
NOTE: Cues for sitting and standing during the service are noted in the program with the following exception. When President Salovey, in his address, says the following: "Women and men of the Class of 2015," ALL SENIORS RISE.  
2:30 pm: Baccalaureate Service in Woolsey Hall
3:30 pm: President's reception for seniors and their guests at Beinecke Plaza
Sunday, 17 May 2015 Class Day Exercises*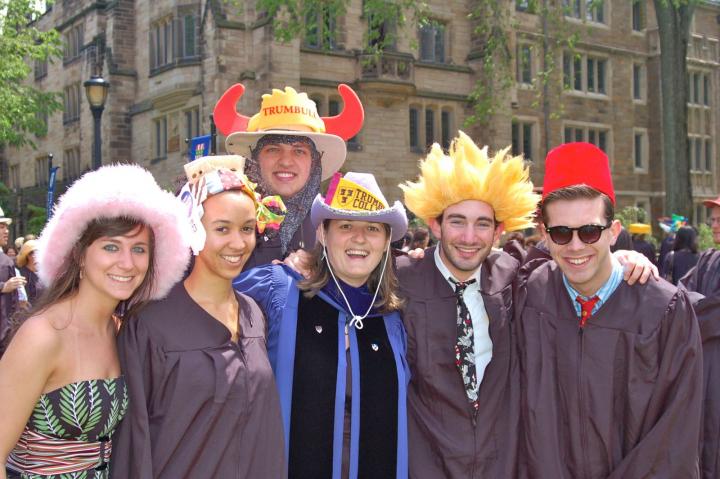 1:15 pm: Assemble at Cross Campus near the Trumbull sign wearing gowns and DISTINCTLY NON-ACADEMIC HEADGEAR (this is one opportunity to show your style!!!). We will line up on Cross Campus before processing to Old Campus for the ceremony.
2:00 pm: Class Day exercises on Old Campus
4:30 pm: Reception for graduates and their families and friends at the TC Master's House
Monday, 18 May 2015
Commencement Ceremony*
9:00 am: Assemble in the Trumbull courtyard wearing caps and gowns. We will process to Old Campus from Trumbull as a college.  Please note that you will be sitting in rows of eleven students on Old Campus, so plan accordingly!
10:30 am: University-wide Commencement Ceremony on Old Campus
Return directly to Trumbull with the class following the ceremony. You will meet up with friends and family in the courtyard after they return from Old Campus.
12:00 pm: Trumbull College Commencement Ceremony in the main courtyard
1:30 pm: Lunch buffet for Trumbull graduates and guests will be served in the dining hall (Lunch tickets may be purchased in advance at http://www.yale.edu/dining/ or at the door after the Commencement Ceremony)
 *NOTE:  The Class Day and Commencement ceremonies will take place outside on Old Campus rain or shine.  Our College diploma ceremony will be moved to Battell Chapel in case of rain (in this case, you may want to wear clothes you don't care about since the black robes bleed when they get wet).